Print
All 5Star Preps Football – 2018

FIRST TEAM OFFENSE
QB – Cade Ballard (Greeneville)
The 5Star Preps Offensive Player of the Year and two-time Class 4A Mr. Football winner steered Greeneville to a second consecutive 15-0 championship run with 3,050 yards passing, 40 passing touchdowns and one interception. Ballard, an Army signee, completed 80.8 percent of his passes and also ran for 843 yards and 20 touchdowns on 101 carries.
QB – Stanton Martin (Anderson County)
The two-time 4A Mr. Football finalist once again led the Mavericks to the 4A state quarterfinals, throwing for 3,015 yards and 47 touchdowns. He won 24 games over the last two seasons.
QB – Walker Russell (Alcoa)
Russell took home the Class 3A Mr. Football award in 2018, leading the Tornadoes to a fourth consecutive state title. He ran for the game-winning touchdown with 16 seconds left against Covington in the 3A BlueCross Bowl championship.
RB – Kyle Carter (Farragut)
One of the area's most productive tailbacks, Carter ran for 1,405 yards and 23 touchdowns during his senior season on just 178 carries. He plans to play for Wheaton College in Chicago.
RB – Kris Hawkins (Jefferson County)
Hawkins took the area by storm his senior season, rushing for an area-best 1,547 yards and 18 touchdowns in the regular season. He averaged more than 200 yards rushing per game through his first seven games before injury struck.
WR – Thomas Harper (Karns)
Already on campus at Oklahoma State, Harper exited the prep ranks on a high note — catching 80 passes in 10 games for 1,279 yards and 18 touchdowns. Projected to play cornerback in college, Harper also had 92 tackles and seven pass deflections.
WR – Dorien Goddard (Greeneville)
A Virginia signee and mid-term enrollee there, Goddard had a monster senior season with 77 catches in 15 games for 1,320 yards and 14 touchdown catches to help Greeneville repeat as 4A champion.
WR – Holden Willis (Greenback)
The 6-4, 200-pound Willis had his junior season cut short in the playoffs because of injury, but he still managed 941 yards receiving (23 yards per catch) and 13 touchdowns on just 41 receptions.
TE – Cameron Hite (Greeneville)
Hite, a Wake Forest signee, reeled in 37 catches for 913 yards this past fall and a team-high 15 touchdown catches. He averaged a team-best 24.7 yards per reception. He added 55 tackles and three pics as a defensive back.
OL – Bryn Tucker (Catholic)
At 6-foot-5 and 300 pounds, Tucker entered the season with plenty of hype, having already been tabbed a 2020 Under Armour All-American. He lived up to the billing, helping guide the Fighting Irish to the 5A state semifinals. He recently picked up an offer from national-champion Clemson.
OL – Chris Everhart (Greeneville)
The team's best offensive linemen didn't disappoint in 2018 and spearheaded an offensive attack that averaged 410.8 yards per game on 50.1 plays per game. He'll be one of the area's top prospects entering the 2019 season, his senior season.
OL – Cooper Mays (Catholic)
An SEC recruiting target, Mays showed next-level ability on both the offensive and defensive lines for the Fighting Irish. But his leadership up front on offense helped guide a young Catholic offense that featured 3-5 freshman starters to the deep rounds of the 5A playoffs.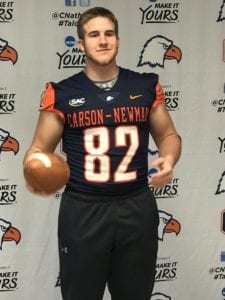 OL – Andrew Coulter (Alcoa)
Coulter recently announced his commitment to Carson Newman, and he's an all-state selection that graded at better than 90 percent. Alcoa averaged more than 40 points per game and 7.5 yards per rush.
OL – Ja'Kobi Troutman (Central)
The top offensive lineman on Central's 5A championship team, Troutman – a 6-1, 310-pound senior – set up shot at the left-tackle position for the Bobcats.
ATH – Jashaun Fenderson (Fulton)
The epitome of a jack-of-all-trades player, Fenderson led Fulton with more than 1,500 all-purpose yards. He finished with 836 yards receiving and seven touchdowns and also more than 440 yards in punt returns.
ATH – Bryce Hanley (Greenback)
The 5-8, 170-pound Hanley won Class 1A Mr. Football his senior season, throwing for 2,578 yards and 28 touchdowns in 12 games — while also rushing for 597 yards and six touchdowns.
ATH – Tommy Winton (Catholic)
The 5Star Preps Offensive Newcomer of the Year, Winton — as a freshman — led Catholic in receptions (46), receiving yards (879), TD catches (8), yards per carry (10.1) and was second in rushing yards (466 yards) and rushing touchdowns (6).
K – Job Matossian (William Blount)
Just a freshman, Matossian was named one of five statewide semifinalists for Tennessee Titans Mr. Football kicker. He made 8 of 10 field goals with a long of 49 yards and made all his PATs.
FIRST TEAM DEFENSE
DL – Tyrece Edwards (West)
The 6-3, 230-pound defensive end finished his junior season with more than 100 tackles and 10 tackles for loss. He also picked up an Arkansas offer in 2018.
DL – Drew Francis (West)
There's a reason why Purdue, Vanderbilt and Arkansas are after Francis. The 6-2 junior rang up 17.5 tackles for loss and seven sacks and more than 80 tackles.
DL – Grey Carroll (Alcoa)
The Region 2-3A Sophomore of the Year helped Alcoa pitch eight shutouts in 15 games this season with 61 tackles, 8 TFLs, 7 sacks and 18 QB pressures.
DL – Jacques Gillespie-Taylor (Greeneville)
Though he'll play baseball in college, Gillespie-Taylor couldn't be stopped on the defensive front, leading the 4A champion Greene Devils in sacks with 12 while also adding in six more tackles for loss.
DL – Colton Webb (Powell)
The 6-3, 255-pound junior made 99 tackles with 24 tackles for loss and seven sacks in 2018, adding in 23 QB pressures and two blocked kicks.
DL – Shamarcus Brown (Bearden)
The 6-5 senior gave football a go this past season and proved highly effective at it, recording 17 tackles for loss and nine sacks in 10 games played.
LB – Chris Stevenson (Austin-East)
The Tennessee Tech signee and all-state linebacker selection in 3A, Stevenson led the Roadrunners to the state quarterfinals with 156 tackles and 36 tackles for loss.
LB – Deshawn Page (Fulton)
Though he had to take on a leadership role in the offensive backfield, Page still stood out as the area's best linebacker — winning Class 5A Mr. Football and signing with Marshall University. He finished his senior season with 16 tackles for loss and three interceptions.
LB – Ty Youngblood (Greeneville)
Youngblood, a junior, led the 4A state champion Greene Devils in tackles with 118, including nine TFLs and three sacks. He had a monster game in the BlueCross Bowl with 11 tackles, a tackle for loss and fumble recovery. Army recently offered.
LB – Spencer Shore (Maryville)
The 6-2, 215-pound Shore proved to be a terror to opposing offenses, living in their backfields with a Maryville-best 4.5 sacks and 19 tackles for loss.
LB – Mason Shelton (Maryville)
The junior led Maryville in tackles with 136 while also making 17 tackles for loss and forcing three fumbles. He picked up his first Division I offer from Tulane on Jan. 16.
LB – Kalib Fortner (Central)
The 5Star Preps Defensive Newcomer of the Year, Fortner couldn't be contained as a sophomore — especially in the postseason, where he rang up nine of his 15 sacks. He had three sacks in the 5A championship game, and he finished the season with 94 tackles and 18 tackles for loss.
DB – Demetrien Johnson (Central)
One of the area's most elite receivers (1,101 yards, 11 TDs), Johnson — a Tennessee Tech signee — also intercepted eight passes and broke up six others. He returned those eight interceptions for a total of 132 yards.
DB – Xavier Washington (Central)
The 5Star Preps Defensive Player of the Year led the Bobcats to a hard-fought 14-9 victory over Henry County in the 5A Championship, making all the big stops late to secure the win. Washington also made 132 tackles with 23.5 tackles for loss, nine sacks, three interceptions and 10 pass deflections as a senior. He signed with Tennessee Tech.
DB – Michael Carroll (Anderson County)
An unheralded athlete, Carroll led the area in touchdown catches with 21 and rang up 1,099 yards receiving in 2018. He also led the Mavericks defensively with four interceptions and seven pass breakups.
DB – Herbert Booker (Oak Ridge)
Booker entered the season more known for being QB1 at Oak Ridge but wound up being a Mr. Football finalist in 5A for defensive prowess —  9 interceptions, four of which were returned for TDs (104, 99, 82 and 34 yards). The 6-1 senior had more than 350 yards in interception returns.
DB – Tanner Corum (Farragut)
The Southern Illinois signee not only led Farragut in receiving yards (615) and receiving TDs (five)  this past season but he also was tops on the defensive unit with six interceptions.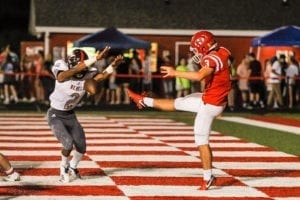 P – Briggs Marcantel (Halls)
Mercantel had a highly productive season for the Red Devils, booting through 7 of 9 field goals with a long of 46 yards. He made all his PATs and averaged 40.4 yards per punt.
TO VIEW THE SECOND AND THIRD TEAMS, CLICK HERE: https://www.5starpreps.com/articles/2018-all-5star-preps-second-and-third-teams/