Print
BY DAVE LINK
Sarah Swindle and Lainie Holbert of Riverside High in Decatur County have been best friends for as long as they can remember.
They go to church together, play softball together, and do most everything together.
Their friendship translates into an outstanding partnership on the bass fishing circuit.
Swindle and Holbert became the first all-female team to win on the Tennessee Bass Nation High School State trail, clinching a State Open title Sept. 9 on Nickajack Lake just west of Chattanooga.
"We're really just like sisters, especially on the boat," said Holbert, a sophomore at Riverside High. "We can agree to disagree and of course, vice versa. It makes it easier because she understands me and I understand her. We understand our strengths. We have different strengths, like Sarah's better at slow moving baits because she's more patient than I am.
"It's easier to see each other's strengths because we've known each other for so long and it also makes it more fun because we can be more ourselves around each other more than someone we don't know very well."
Sisters have an occasional spat. Not Swindle and Holbert.
"We actually don't fight," said Swindle, a junior at Riverside. "We usually just voice our opinions and figure out what we want to do from there on tournament day, what baits we want to use and who thinks what."
Their plans worked at Nickajack – but only because of a hot bite after lunchtime.
"It wasn't looking too good," Swindle said, "because we only had seven or eight pounds, but you've just got to trust in the Lord that it will all work out."
With Riverside coach Justin Kelley serving as boat captain, Holbert and Swindle – in boat No. 52 – finished with a bag of five bass weighing 18.04 pounds. Their big bass was 4.54 pounds, barely bigger than their second-best at 4.53 pounds. Each of the anglers caught one of the biggies.
"I have no idea who caught which one because they were so similar," Holbert said.
Derek Davis and Evan Wood of Mt. Pleasant finished second with five bass weighing 17.36 pounds, including a 6.49 pounder, followed by third-place James Sumrell and Brody Harp of Hixson High (five bass, 15.57 pounds).
Alcoa's Walker LaRue and Joe Vaulton were the top area finishers in seventh place (five bass, 14.07 pounds), while Alcoa's Jackie Hatfield and Graham Willis were ninth (13.38 pounds).
Lincoln Snyder and Lucas Bellomy of Soddy-Daisy Junior Bass won the middle-school division (five bass, 13.26 pounds, 3.88-pounder) and Tyler Marler and Maddox Andrews of Sale Creek Junior Bass were second (four bass, 10.36 pounds). Jeremiah Underwood and Gary Allen Underwood of Hamblen Junior Anglers were eighth (three bass, 6.06 pounds).
SOFTBALL AND FISHING
Swindle and Holbert made the trip to Spring Fling the past two years with the Riverside softball team for the Class 2A state tournament.
Holbert is the left fielder, and Swindle is a catcher.
Surprisingly, they don't have a hard time juggling their softball and fishing schedules.
"Our softball coach (Mike Box) is very understanding that we do other things," Holbert said. "The way our softball schedule is, we've never had to miss a big game, but we don't go to the weekend (softball) tournaments' when we have a fishing tournament."
Holbert also played basketball until last year but stopped to devote more time to fishing and softball.
Swindle has fished in tournaments since she was a youngster, and once she and Holbert got into middle school, their partnership began
They've been fishing together ever since.
"We both really enjoy everything we do together," Swindle said.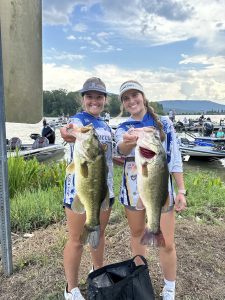 WINNING NICKAJACK
Holbert and Swindle fished a Tennessee Bass Nation event on Nickajack during middle school and posted a second-place finish with a 5-pound bass.
"We knew we had done well before," Holbert said, "but we hadn't been back once in three years, so we knew we were going to have to figure it out."
After a cloudy, cool practice day, conditions changed on tournament day. It got hot, 80-plus degrees, with an early sunup.
Holbert spent most of the day fishing a Texas rig, and Swindle fished a Texas rig and drop shot.
They had a limit by about 10 a.m., but it was a light limit.
"Then they just shut off," Swindle said. "We were going to our last spot and we'd planned on staying there because we'd done well there in pre-fishing. That's when they started firing and we probably caught 10 or 12 keepers off that spot, and the two big ones."
All their bass were largemouth except for a spotted bass, which they culled.
Holbert knew she had a big one when it hit.
"Sometimes they feel so different," Holbert said, "like a big one can feel small and a small one can feel big. We'd been fighting the 2-pounders all day, and I set the hook, and when you set them and they're that big, they stop your line, they stop your rod immediately.
"I said, 'It's a big one,' and we got it halfway to the boat and it started jumping. We're all kind of freaking out. It was a really cool experience. We got it in the net and we were all super excited."
Like Holbert, Swindle had a tough time getting her big bass to the boat.
"I had just started letting it sink and he hit so hard," Swindle said, "I knew it was a big one because it didn't hit like any of the others. It hit and just stopped. I fought it for a while. It went around the boat, then darted under the boat, and we were getting nervous, and thinking, 'I hope this doesn't come off.'
"Then it tries to go under the motor and we get it back and into the net. We were so excited because we'd just caught what we thought were 5-pounders but they ended up being a little less. It was pretty awesome."
Just like their feelings after winning the title.
"It's pretty awesome, especially knowing younger girls look up to you," Holbert said. "We had some younger girls come up to us at that tournament and tell us they looked up to us. That's definitely encouraging going into the rest of the season and even to ourselves, just to know that people are watching us and realizing what we're doing."