Print
The All 5Star Preps Preseason Defensive Team is no slouch.
It features an Oklahoma State commitment, a Tennessee recruit and impressive duos from Fulton and South-Doyle.
Make sure you keep an eye on these defensive stars this season…
DL – Stiles Moore (Catholic, junior, 6-3, 240)
The Know: After making 101 tackles and 19.5 sacks as a sophomore, Moore was named Region 4-5A Defensive Lineman of the Year. He capped that season with a 33-yard fumble return for a touchdown in Catholic's 5A championship win. He then picked up three scholarship offers: Duke, Tulane and Central Michigan.
DL – Tyrece Edwards (Knoxville West, junior, 6-3, 230)
Whether it's in a crowd of linemen in the trenches or in the open field, Edwards usually finds a way to bring down a quarterback or ballcarrier. He never seems to quit on a play, and he uses his strength advantage to wreak havoc on offenses. He made 28 tackles for loss and 11.5 sacks last season and picked up offers from Arkansas and Tulane in the offseason.
DL – Grey Carroll (Alcoa, sophomore, 6-2, 225)
The Know:This will be Carroll's breakout season. After logging some meaningful minutes last season and then registering six tackles, one tackle for loss and two quarterback hurries in the 3A championship, Carroll will take full advantage of being a starter for the Tornadoes. He's already received an Austin Peay offer, and he's considered the team's best defensive lineman. He's only going to get better. He runs a 4.7 and has a 31-inch vertical.
DL – Garrett Everett (Maryville, senior, 6-5, 240)
The Know:Though he may not be some Power 5 Conference prospect, Everett is still plenty good to disrupt offenses in Class 6A. He made some big plays in the 6A championship win a season ago, and Morehead State and Stetson are a couple of the schools chasing after Everett once his prep days are through.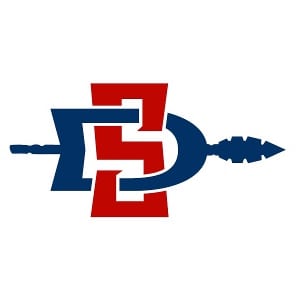 DL – Chaztin Gillette (South-Doyle, senior, 6-6, 325)
The Know: You've likely never heard of Gillette just yet. That's because this will be his first year playing. But he's an absolute beast and definitely has a high ceiling, which could wind up being FBS football in a few years. Gillette is listed as a nose guard on defense, and his sheer size alone will garner a few intimidation sacks. But when the technique sets in to go along with his power, he'll be an absolute force in Class 5A.
LB – Deshawn Page (Fulton, senior, 6-2, 217)
The Know: Page is arguably the state's best linebacker and holds offers from Missouri and West Virginia among others. A tenacious unrelenting linebacker who loves to hit, Page's instinct and ability to snuff out plays can't be taught. He'll be counted on heavily this season, as he will once again get meaningful carries in the backfield.
LB – J'Coryan Anderson (Fulton, senior, 6-3, 212)
The Know: The Scottie Pippen to Page's Jordan, Anderson is a well-rounded linebacker with the grades in the classroom to make him a sought-after recruit. Anderson made 15.5 tackles for loss, six sacks and three interceptions. He has roughly 20 scholarship offers, which include Colorado State, Tulane, Appalachian State, Marshall and Western Kentucky.
LB – Jeremy Mitchell (Oak Ridge, senior, 6-0, 190)
The Know: Tulane, Liberty and Eastern Kentucky have offered the hard-hitting Mitchell, who made 88 tackles last season with five sacks. He also doubles as a wide receiver and could play safety in college. Regardless, he's known for his power. ""He's just a pure, bonafide hitter," Oak Ridge coach Joe Gaddis told 5Star Preps in May. "Every college coach that comes in here says that's the first thing they notice about him. He packs a wallop, and it doesn't matter what size the opponent is. He just goes through you."
LB – Drew Francis (West, junior, 6-3, 200)
The Know: Like his defensive lineman counterpart Tyrece Edwards, Francis also holds offers from Arkansas and Tulane. And like Edwards, he terrorized offenses in 2017. He racked up 91 tackles, 29 tackles for loss and 11 sacks. He's loaded with competitive fire, which can easily be seen when he lines up right of defensive end and chases down quarterbacks.
LB – Chris Stevenson (Austin-East, senior, 6-1, 205)
The Know: An under-the-radar linebacker with 4.47 speed, Stevenson is a punishing tackler with great closing ability. But he's been overlooked by recruiters, and that's a shame. He's, at minimum, an FCS talent. Should Austin-East play well through the regular season, he could be a Mr. Football candidate.
DB – Elijah Young (South-Doyle, junior, 5-10, 165)
The Know: With elite speed and athleticism, there's no question as to why Tennessee, Louisville, Arkansas, South Carolina and Mississippi State have offered. His versatility allows head coach Clark Duncan to use him at tailback, receiver and defensive back. He had more than 1,000 yards of offense last season and picked off two passes.
DB – Tonquez Ball (South-Doyle, senior, 5-11, 170)
The Know: Though he was the Region 2-5A Offensive Player of the Year last season with more than 1,000 receiving yards, Ball excelled in the secondary, as well. He had 30 tackles with two interceptions (one returned for a TD), a fumble-recovery touchdown and eight returned punts for 121 yards. Projected as a college corner, Ball has roughly 20 offers that includes Colorado State, Tulane, Appalachian State and Miami-Ohio.
DB – Thomas Harper (Karns, senior, 5-11, 170)
The Know: Perhaps more known in Knoxville as one of the area's better receivers (1,086 yards in 2017), Harper — an Oklahoma State verbal commitment — also made 40 tackles with two interceptions as a defensive back last season. Harper expects to play defense in college. Now knowing that, expect a more ball-hawking Harper this fall.
DB – Isiah Cox (Alcoa, sophomore, 6-1, 165)
The Know: Cox found the field as a freshman last season at Alcoa, and that isn't easy to do. He made three tackles in the championship win over Covington. And he performed very well as a defensive back and return man this summer in a scrimmage against 5A state power Knoxville Catholic. He's one of many talented sophomores that will become Alcoa stars this fall.
DB – Xavier Washington (Central, senior, 5-10, 190)
The Know: Austin Peay and Tennessee Tech are after this strong safety not just for his ability but for his high level of productivity. He reads the field well and his 4.5 speed help him close gaps. Washington made 111 tackles and eight tackles for loss. He also made three sacks, two interceptions and fumble recovery.
DB – Demarcus Nelson Jr. (Knoxville West, senior, 6-2, 205)
The Know: Nelson logged a couple of interceptions last season in big moments and delivered some large hits from his safety position. A Union College commitment, Nelson still hasn't reached his full potential. Nevertheless, he provides yet another competent and athletic component to an already stout West defense.