Print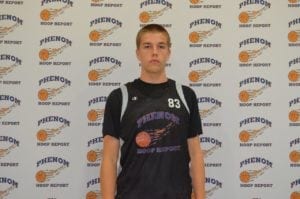 Grant Ledford, the MVP of the 2018 Division II-A state tournament, developed his basketball versatility at an early age.
And that well-roundedness has paid off.
Ledford committed Wednesday to play for Chattanooga, and the 6-foot-5 rising senior at Grace Christian envisions himself playing anything from the 1-4 positions for the Mocs.
"It just kind of depends on the match up, who's guarding me," Ledford said.
At the coaching of his father, Ledford began dribbling drills at an early age. But as he continued to grow taller than his classmates, he could still handle the ball just as well his peers. He worked on his all-around game, and it helped Grace Christian win a state tournament in March — and it helped him become a legit college prospect.
Ledford also fielded offers from Army, Tennessee Tech, UT-Martin and Presbyterian. His decision came down to Chattanooga and Army, he said.
He made four visits to Chattanooga, and it felt like home. He felt a great comfort level with the coaching staff there, and gave them the news a few hours after waking up Tuesday morning.
"I've just been praying and talking to my family a lot. We just felt like that was the right place for me," he said.
Ledford tore the posterior cruciate ligament in his knee. And so he's been on crutches and going to rehab. Chattanooga coaches didn't flinch at the injury, Ledford said. "They stuck by me, and I really appreciated that."
He's the second Division I commitment on Grace's roster. C.J. Gettelfinger, a rising senior guard, has committed to Oakland. B.J. Marable, a 6-7 rising junior at Grace, could be a D-1 player, as well.
Ledford amassed 30 points and 15 rebounds in two state tournament games this past spring.
"It's awesome. I've dreamed about it since I was 5 years old," Ledford said of being a future Division I player. "Now that it has actually come true and that I'm actually going to play at that level, it means a lot. I'm ready to get it going."