Print
They spoke different languages, had varied religious beliefs, and came from cultures worlds apart. Yet football brought 24 Israeli high school players together with Christian Academy of Knoxville players for the second consecutive summer.
It started with the CAK International Football Camp from July 2-8 for only the Israeli players during the second week of the TSSAA-mandated dead period.
It ended with CAK players and the Israeli players going to the Fellowship of Christian Athletes 7-on-7 passing camp Wednesday through Friday at Tennessee Tech in Cookeville.
The players got to know each other well during the trip.
"It's kind of weird because they're really not that much different than us," said CAK's Luke Simpson, a senior wide receiver this fall. "They're just teenage guys like us, just from a different country. They really like to talk football because it's new to them."
The players and their three coaches from Israel got a lot more than football out of the FCA gathering.
Israel coach Gilad Shoham wasn't sure how his players would feel at the Christianity-based football camp.
"This is very unique," Shoham said while driving back from Cookeville. "I was a bit concerned. I had 21 Jewish people and three Muslims from Israel coming here, and I didn't know how they would react to all the FCA, their preachers, and them talking to you about Christianity and everything, and they just loved it. They loved a new approach and how you connect God and the Lord and everything through football, and they just enjoyed it, really."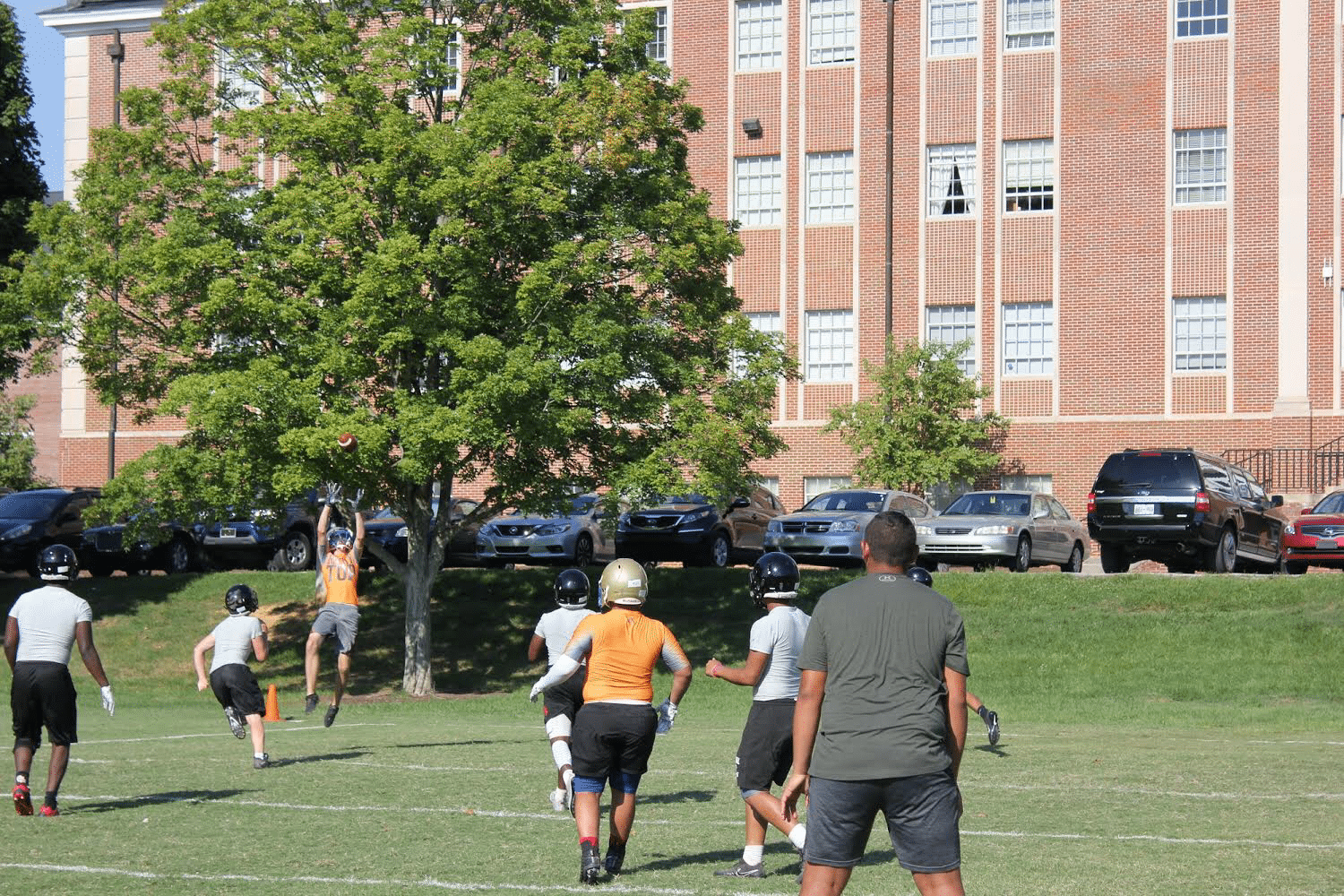 CAK assistant head coach Bart Kareken and The King's Academy defensive coordinator Dan Phillips were driving forces behind the CAK camp for Israeli high school players.
Phillips is one of the founders of the Friends of the IFL (Israeli Football League) and recruited Kareken as a mentor-coach for the program.
Friends of the IFL help provide football gear, uniforms, and helmets to Israel, where quality equipment is not available in stores and must be shipped at extremely high prices.
Last summer, Phillips and Kareken started the CAK camp with 19 Israeli high school players. The number grew to 24 this summer, and the players from Israel come from varied backgrounds.
"The thing that's kind of interesting to see is it doesn't matter where you come from, religion, race," Kareken said. "There's a handful of Muslim guys who are here that are Israeli Muslims. There's three or four Arabs here. There's a bunch of Hebrew kids, and you get on the football field, and everybody still talks the same stuff, we play the same game."
It's just not as big in Israel. And they haven't been playing football nearly as long.
Kareken said there are nine high school football teams in Israel, and six of the teams were represented at the CAK camp. There is one high school league in Israel, and it's like an intramural sport. The only field is in Jerusalem at the Kraft Family Sports Complex, built and funded by Robert Kraft, owner of the New England Patriots. It's a turf field next to two grass soccer fields.
While the IFL adult football league plays under a 9-on-9 player format, the high school league went to 11-on-11 this past year.
"It's a growing sport," Kareken said. "More and more guys are getting involved. More and more people are interested in it over there, so more and more kids are coming around and playing the game. It's getting a lot more attention, a lot more guys involved."
Shoham, 47, is heavily involved. He got hooked on football in the early 1990s watching Emmitt Smith of the Dallas Cowboys on a once-a-week bootleg television broadcast in Israel. He's now the coach at Ramat-Hashron High School, a city about 5 miles north of Tel Aviv, and has players from five other high schools on his team.
Shoham said the two weeks of football in Tennessee are invaluable to his players. They had two-a-day practices and did weight work during the first week of the dead period with several CAK coaches, Phillips and The King's Academy head coach Les Greer, all approved by the TSSAA.
Earlier this week, the players from Israel had 7-on-7 passing scrimmages with CAK and The King's Academy.
"It's just become so great," Shoham said. "We have tons of players who want to come here. Although it's expensive, it teaches you a lot, not only the fundamentals of football, but also about the mentality of football, atmosphere of football, everything that everyone here grows up on. (Our players are) here for two weeks. We've just finished the second week, and we're going back Monday."
They won't forget the trip, all the football, the culture, the camaraderie at the FCA camp.
"At the camp we had 500 kids, and everyone was looking and talking to (our players), because (few) Israelis come to Tennessee," Shoham said. "It was just an amazing experience. Everyone really enjoyed it. Again, this is part of being here in the South: football, Christ, barbecue. It's three things. We just enjoyed being a part of this."
Our sports partner, WATE-6, published their story on the Israel team this week. You can view it below.