Print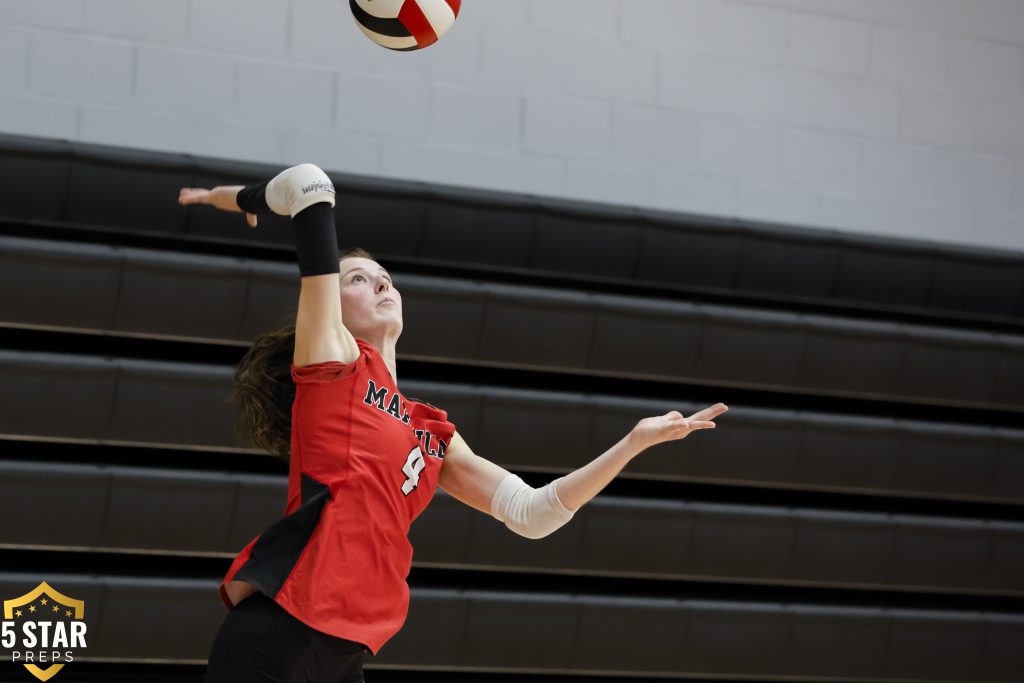 State tournament berths will be up for grabs Thursday and Saturday this week.
Here are the area teams that are still alive, how they got there and who they'll play next …
Region 1-A
South Greene eliminated Greenback, 3-0, on Tuesday in the region semifinals. South Greene took those sets 25-10, 25-13, 25-8, according to Grass Roots Media. North Greene secured its state sectional berth and spot in the Region 1-A final via a 3-0 win over Washburn, 25-17, 25-16 and 25-9.
South Greene defeated North Greene, 25-9, 25-14, 25-12, to win yet another region championship and secure home-court advantage for Thursday's state sectionals. The victory marked South Greene's 13th region championship in a 14-year span, per Grass Roots Media in Greene County.
South Greene will take on Region 2-A runner-up Chattanooga Liberal Arts in the sectional round, as the Lady Rebels will try to lock up their 15th consecutive state tournament appearance. South Greene won it all in 2021.
North Greene will travel Thursday to face Region 2-A champion Chattanooga School for Arts & Science.
Region 2-A
Chattanooga Liberal Arts eliminated Coalfield on Monday in the region semifinals while Chattanooga School for Arts & Sciences ousted Harriman.
CSAS (30-5) defeated CLA in the Region 2-5A final.
Region 1-AA
Greeneville dropped its first set Tuesday night against Gibbs in the region semifinals but quickly found form, winning the match in four sets: 23-25, 25-19, 25-15, 25-21.
Volunteer defeated Elizabethton in straight sets, taking the final one 25-19 to advance to the region championship versus Greeneville.
Volunteer capped its big night with a win over Greeneville in the region final: 25-23, 17-25, 25-19, 25-19.
Volunteer will play host Thursday to Region 2-AA runner-up Seymour in a state sectional. Volunteer has one state appearance (1987).
Greeneville will be looking to get back to the state tournament for a second consecutive season when they play Thursday at Anderson County in the sectional round.
Region 2-AA
The four teams here played region semifinals on Monday. And none proved more dramatic than the Seymour vs. Alcoa semifinal. Tournament host Seymour won in dramatic five-set fashion 25-18, 17-25, 20-25, 25-12, 15-12, to keep its season alive.
Meanwhile, Anderson County eliminated Pigeon Forge, 20-25, 25-15, 25-10, 25-18.
Anderson County then followed that with a straight-sets win over Seymour in the finals Tuesday night: 25-15, 25-18, 25-16.
The Lady Mavs will welcome Greeneville in the state sectionals Thursday night, as AC will vying for its fourth state tournament appearance in five years.
Seymour, meanwhile, will play at Volunteer in a state sectional Thursday. Seymour has never reached a state volleyball tournament, per TSSAASports.com.
Region 1-AAA
Both Morristown East and Morristown West had their seasons conclude Monday in the region semifinal round. Morristown West lost a nail-biter, as Science Hill defeated the Lady Trojans 25-21, 21-25, 21-25, 26-24, 15-11.
West Ridge (36-8) beat East in straight sets 25-21, 25-21, 25-14.
West Ridge then did the same to Science Hill in Tuesday's region championship, 26-24, 25-20, 25-21.
The Lady Wolves will welcome Region 2-AAA runner-up Hardin Valley in the state sectionals Thursday night.
Science Hill travels Thursday to face Region 2-AAA champion Maryville.
Region 2-AAA
Ashley Taylor recorded the 1,000th dig of her career, and Maryville took down Powell 25-8, 25-19, 25-9, in the region semifinals Tuesday night at tournament-host Clinton.
Hardin Valley eliminated District 3-AAA champion Clinton in the region semifinals, 25-20, 25-20, 25-12, to reach the region finale against Maryville.
Maryville then defeated District 4 foe HVA, 25-20, 21-25, 25-17, 25-16 to win the region title for the fourth consecutive season and secure a home sectional match Thursday night against Region 1-AAA runner-up Science Hill.
The Lady Rebels need to knock off Science Hill to reach the state tournament for a fourth consecutive season.
Conversely, Region 2-AAA runner-up HVA will travel Thursday to play at Region 1-AAA champion West Ridge in the state sectionals. HVA made state appearances in 2016, 2017 and 2021. West Ridge reached state in 2022.
DIVISION II-A
Concord Christian (13-5) defeated University School of Jackson on the road in West Tennessee on Tuesday night in straight sets, 3-0, to secure a spot in Saturday's state quarterfinals. CCS will play at Providence (31-3) for a spot in next week's state tournament semifinals. Concord finished as state runner-up in 2018, 2019 and 2021.
Lakeway Christian fell to visiting Goodpasture (18-3) in five sets Tuesday. Lakeway got the win in the fourth set to keep the match alive but fell 15-7 in the decisive frame. Goodpasture (19-3) will play play St. George's (14-15) in a state quarterfinal Saturday for a berth into next week's state tournament.
DIVISION II-AA
Webb had a bye Tuesday but will play Father Ryan on Saturday for a berth into state.
Catholic kept its state tournament hopes alive Tuesday night, knocking off Harpeth Hall in four sets: 25-20, 25-10, 22-25 and 25-20. The Lady Irish advance to face East 1-seed Baylor on Saturday in a state quarterfinal. The winner moves on to the state semifinals Tuesday at host-site Middle Tennessee Christian School in Murfreesboro.
Catholic and Baylor two split their meetings this season, with Catholic winning 3-1 on Oct. 4. Baylor eliminated Catholic from the 2022 state tournament in a five-set thriller.