Print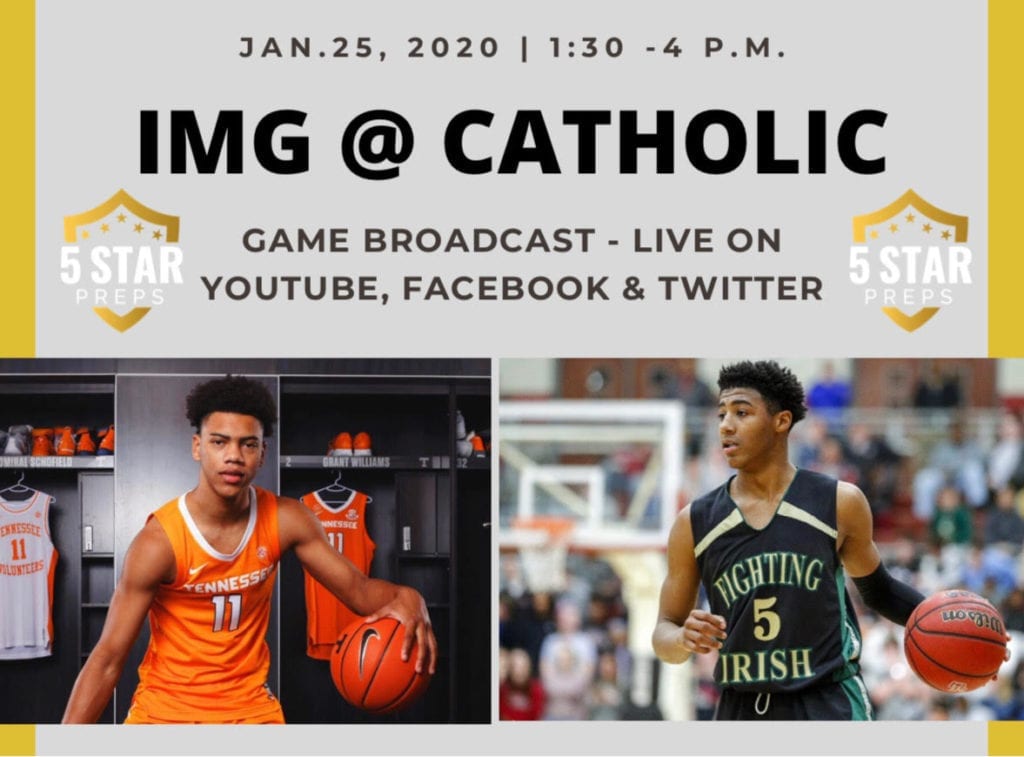 More than 12 Division I caliber players in one game.
This was just too good not to get involved.
5Star Preps will dip its toes into the streaming waters on Saturday, Jan. 25, 2020, when its social media platforms will stream Catholic's game against defending national-champion IMG Academy.
For those going to the game, doors will open at 12:3o p.m. with tip-off coming at 2 p.m. General admission is $20, per the Catholic basketball Twitter account. Only 1,500 seats are available. No pre-sold tickets will be available.
If you can't make it that day, the 5Star Preps pregame show will begin at 1:30 p.m. on 5Star Preps' Twitter account, Facebook account and YouTube account. Those who subscribe to NFHS broadcasts can watch the live feed there, as well.
Vince Ferrara, of Sports Radio WNML-FM 99.1/AM 990, will carry the play-by-play duties, while former NBA G-League player and Bearden star Ty Greene will provide analyst work.
They should have plenty of talent to talk about.
"The competition, that's why we hooked it up," said Catholic coach Mike Hutchens. "We're playing teams to make us better. It's exciting to get to play a team with that kind of talent. We full well expect to hold our own."
IMG, of course, boasts 5-star recruit and Vols point guard signee Jaden Springer, the No. 17 player in the Class of 2020. So Vols fans can watch him play and still have plenty of time afterwards to tune into the Vols playing Kansas at 4 p.m. that same day.
But Springer isn't all IMG has. Check out who all else IMG is bringing …
5-star, 6-10 sophomore forward Brandon Huntley-Hatfield (offers from Tennessee, Kentucky, Florida and more), the No. 9 player in the Class of 2022.
5-star, 6-6 sophomore forward Jarace Walker (No. 4 player in Class of 2022)
5-star, 6-9 forward Moussa Diabate (offers from Florida State, Georgia Tech, Arkansas, Illinois, Maryland)
4-star, 6-10 junior forward Lynn Kidd (likely Florida commit)
4-star, 7-foot senior center Mark Williams (Duke signee)
4-star, 6-4 senior guard Matthew Murrell (Ole Miss signee), a Whitehaven transfer.
Catholic's lineup might not be stuffed with 4- and 5-star players like IMG's but it is no slouch, either.
The Irish are state-ranked and 13-2, the losses coming to out-of-state programs by a combined seven points. Five of its players have Division I offers, led by 6-8 senior forward Akeem Odusipe and 6-1 sophomore point guard B.J. Edwards.
Odusipe has offers from the likes of West Virginia, Seton Hall, Wake Forest, Wichita State, Georgia Tech, Virginia, South Carolina, Georgia, Vanderbilt and Texas A&M.
Edwards is a Top 50 player in the Class of 2022 and was the 5Star Preps 2018-19 Boys Underclassman Player of the Year. Tennessee, Auburn, South Carolina and Seton Hall are among the programs who have offered Edwards.
Catholic 6-11 sophomore Hanje Tamba (Auburn offer), sophomore shooting guard Presley Patterson (LaSalle, South Alabama offers) and freshman guard Blue Cain (ETSU offer) have shown themselves to be next-level players, as well.
This isn't the first time, either, that a Knoxville-area team has taken on a national power. Bearden played Oak Hill Academy twice (2009, 2011) and Grace Christian Academy played at Oak Hill Academy last season.
IMG has shown some vulnerability this season, though, having lost three games. One defeat came Jan. 4 at the hands of Tennessee's Briarcrest Christian — which ran a stall offense to notch a 32-22 win over IMG in the National Hoopfest tournament in Memphis. Moreover, IMG's 5-star, 6-9 forward and Duke signee Jalen Johnson left the program recently to return back to his former school in Wisconsin.
Still, the Ascenders have plenty of options to utilize.
"We've been looking at it," Hutchens said of IMG's game film. "It's going to be fun. They're good.
"Jaden, obviously, is one of the best players in the country. I'm looking forward to seeing him play at UT next year. He's really going to be a great pick up for them. They (IMG) have tremendous size inside. The Murrell kid is tremendous.
"It's going to be something."